Tire Repair Freehold NJ

Are you in need of tire repair near Freehold, NJ? The service center team at Porsche Toms River can help. Our factory-trained and -certified technicians are here to assist with your tire repairs or replacements, as well as any routine maintenance you may need in the Freehold area. Check out what our service center has to offer and then schedule a service appointment at our tire center!
Do I Need Tire Repair?
As a Freehold area driver, you're welcome to pay us a visit if you think you need tire repair services. We'll gladly look over your vehicle to determine what kind of care it needs. We recommend paying attention to your vehicle for signs that your tires could do with a check-up by a factory-trained and -certified technician. These include:
Low tire tread
Sidewall cracks
Vibrations or pulsing, even on smooth roadways
It's a good idea to check your tires monthly for issues like low tire tread and sidewall cracks.
To check your tire tread, do the "penny test." Place a penny with Lincoln's head facing down. If you can see his hair, your tire tread is too low. Replace your tires as soon as possible to ensure proper handling.
All drivers should check monthly for sidewall cracks, but this is especially important in hot climates or for vehicles that aren't driven very often. Cracks in the sidewall can be an indicator of dry rot.
How Often Should I Repair My Tires?
On average, tires are made to last 60,000 miles, or three to four years for the average driver, but we recommend having a trained technician inspect your tires with every oil change to ensure they're road-ready.
There are also several factors that can cause you to need a tire repair or replacement sooner than average, including:
Poor road conditions
Frequent speeding
Quick starts
Emergency stops
Extreme temperatures
While you can't control the weather or the roadway conditions in the Freehold area, there are certain behavioral changes you can make to keep your tires in better shape. For example, follow posted speed limits and leave plenty of space behind the car in front of you to prevent quick stops.
You can also check your tire pressure at least monthly, balance and align your wheels at the recommended maintenance interval, and rotate your tires with every oil change.
Visit Our Service Center for Tire Repair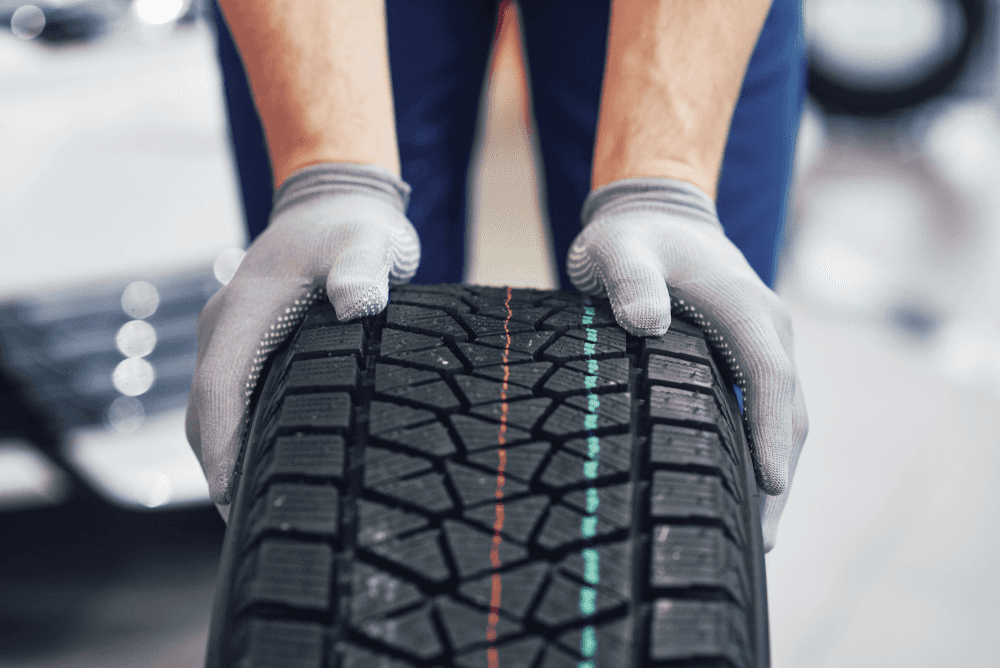 If your tires need to be repaired in the Freehold, NJ, area, we encourage you to visit the professional auto technicians at our state-of-the-art service center. We offer a full menu of services that can help to keep your tires in great shape, like:
Tire rotations
Wheel alignments
Wheel balances
Keep in mind that safety is our top concern so we may recommend replacing your tires altogether if the damage is considerable. If that's the case, we'll direct you to our well-stocked tire center. Here, our team can help you select a new set of tires in the right size and performance indicators for your vehicle.
We have winter tires, as well, for those who want to enhance their traction control during the colder months.
Schedule Tire Repair near Freehold NJ
If your tires need a fix-up, contact Porsche Toms River and we'll get you scheduled for a visit with our service center team.
Contact us to schedule tire repair near Freehold, NJ, today!