Porsche Macan vs Jaguar E-PACE

Live SUV life in luxury. Measuring up the 2019 Porsche Macan vs. Jaguar E-PACE, it's easy to do just that. These two models are powerful, well-designed, and driver-friendly. Many in Toms River, Brick, and Freehold are driving luxury SUVs just like these.
In the market for one of your own? You'll want to check out this vehicle comparison to learn more about these vehicles and what they bring to the table. Porsche Toms River is here to lend a helping hand.
Shop the new 2019 Porsche Macan here!
Porsche Macan vs Jaguar E-PACE Performance

When it comes to these two luxury brands, you expect sports car-like performance. That's not something you'll have to sacrifice even though these are both SUVs. The Porsche Macan comes standard with a 2.0-liter 4-cylinder engine, which makes 248 horsepower and 273 lb-ft of torque.
The E-PACE does its best to match that, with a turbocharged 4-cylinder making 246 horsepower. R-Dynamic E-PACE models carry the same engine, but can deliver up to 296 horsepower.
Porsche drivers will have access to a 3.0-liter V6 engine on the Macan S models. This engine is far more powerful than any offering you'll find on the E-PACE, as this Macan engine generates 348 horsepower and 352 lb-ft of torque.
Read all the Porsche Macan reviews here!
Cabin Comforts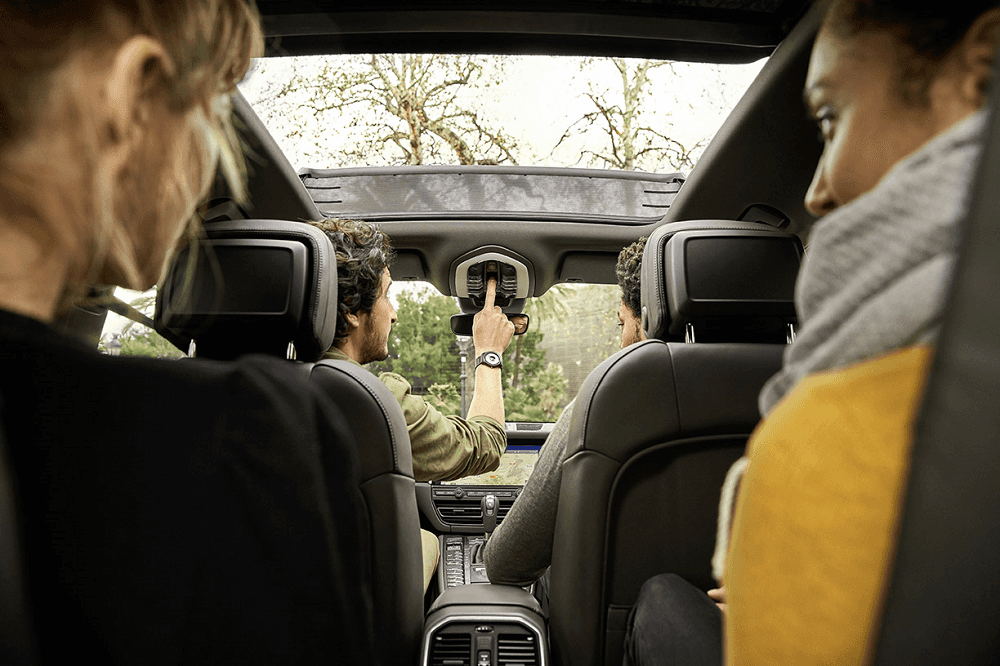 Every trip in your luxury SUV becomes an experience. With the seats in these models, you sit high above the road, but still feel connected to it, thanks to the powerful engines and sharp handling each car offers.
The Macan comes with partial leather seating, while the E-PACE, despite being in the luxury category, features cloth upholstery. Leather upholstery, which looks great and feels great, too, is available in both the Macan and E-PACE.
Cargo space is something that's important to every driver. It's nice to have space for those golf clubs, the groceries, and luggage for a weekend getaway. The Macan bests the E-PACE in the cargo space department, with a bit more room than you'll find in the Jaguar. That space comes in handy when you're trying to use every nook and cranny.
Driver-Friendly Amenities
We're always on the go these days, and it's nice to be able to remain connected even when the wheels are in motion. That's why the Porsche Macan come standard with a new 10.9-inch touchscreen display with full, high-definition resolution. The customizable start screen can be set up to your liking, too.
The in-car technology in the 2019 E-PACE includes the Touch Pro setup, which also has customizable home screens and fast response times. However, the standard screen is a bit smaller than what the Macan has to offer.
Both cars feature smartphone integration standard. Setting up your phone is easy, and choosing that next song, responding to that text, or finding your destination takes just a quick tap.

Porsche Macan vs Jaguar E-PACE: The Final Word
Find a luxury SUV you love to call your own in Toms River, Brick, and Freehold. With its strong performance, cabin comforts, and driver-focused amenities, the 2019 Porsche Macan certainly stands out over one of its close competitors, the Jaguar E-PACE.
Ready to schedule a test drive at Porsche Toms River? Reach out to our sales team today and we'll have the keys waiting.
Contact us to schedule a test drive online here!