Porsche Cayenne vs Range Rover Evoque
If you're on the lookout for a luxury SUV that can pack the kind of punch your Toms River, Brick, and Freehold area driving experience needs for a complete overhaul, the Porsche Cayenne and Range Rover Evoque are likely to be right at the top of your list.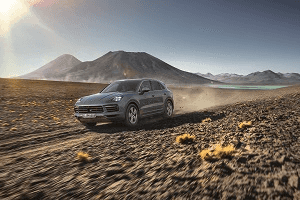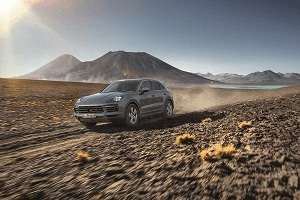 Porsche of Toms River would like to help you narrow that list down even further by providing you with the following Porsche Cayenne vs. Range Rover Evoque comparison. Dive in to find out which one is the ideal choice for your individual lifestyle and sensibilities.
Porsche Cayenne vs Range Rover Evoque: Engine Specs
When you're shopping for a quality luxury vehicle, you want to make sure that the one you pick is up for the challenge, whether you're tackling a formidable switchback on the side of a mountain or competing with rush hour traffic. The Cayenne has three possible engines for the job. Its standard offering is a 3.0-liter, turbocharged V6 engine that supplies you with up to 335 horsepower and a maximum of 333.1 lb-ft of torque.
The other two available Porsche Cayenne engines continue this theme of overachievement. Next in line is the 2.9-liter, twin-turbo V6. This one is able to pound out 434 horsepower along with 405 lb-ft of torque. The last one is the 4.0-liter, twin-turbo V8 engine that comes up with a beastly 541 horsepower with 770 lb-ft of torque.
Read the full Porsche Cayenne review here!
Over on the Range Rover Evoque side of things, the situation under the hood proves itself to be quite different. There are two possibilities. Both are 2.0-liter, four-cylinder, turbocharged engines. The standard Evoque engine produces 237 horsepower with 251 lb-ft of torque, and the available engine gives you 286 horsepower and 295 lb-ft of torque. If your sensibilities call for something with a little more oomph, the Cayenne appears to have the advantage.
Spotlight on Entertainment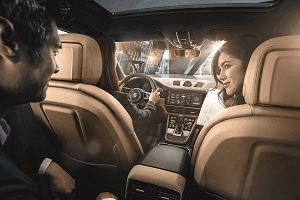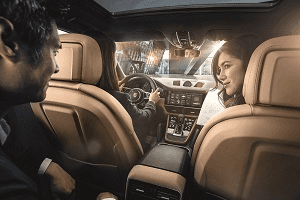 When it comes to these two SUVs, the fun doesn't stop with performance. There is also quite a lot to talk about in terms of entertainment. The Porsche Cayenne jumps out ahead again. It comes standard with the Sound Package Plus that supplies you with 10 full-bodied speakers and a 150-watt output. The Cayenne is available with a Bose® Surround Sound System that utilizes a 14-channel amplifier, fourteen loudspeakers, a subwoofer, and a robust 710 watts of listening pleasure.
The Range Rover Evoque comes standard with the Land Rover Audio System that has eight speakers. There is also the available Meridian™ Sound System that gives you 10 speakers, a dual-channel subwoofer, and 380 watts to work with. For a sound system that's as adventurous as the ride, the Porsche Cayenne is the clear choice here.
Porsche Cayenne vs Range Rover Evoque: It's Decision Time
With all that it has to offer in the areas of performance capability and entertainment, the Porsche Cayenne clearly proves itself to be the better option here. If this Porsche Cayenne vs. Range Rover Evoque comparison piqued your interest and you'd like to learn more about what the Porsche Cayenne can do, contact Porsche of Toms River serving Toms River, Brick, and Freehold to schedule a test drive and explore all these attributes and more.